Toll-Free US & Canada 24/7:
1-770-659-7014
As a precautionary health measure for our support specialists in light of COVID-19, our phone support option will be temporarily unavailable. However, orders are processed online as usual and communication via live chat, messenger, and email is conducted 24/7. There are no delays with processing new and current orders.
Writing tips
How to Write a Creative Essay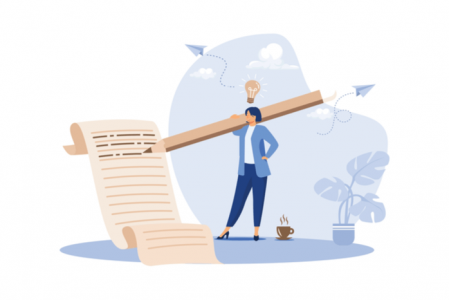 How to write an original and interesting creative essay
To write an interesting and an original creative essay, you should feel its essence. A creative essay is written on a given topic without a specific composition. That is – a creative essay is a more flexible and free-format type of essay than any other similar paper. Such flexibility allows the author to write about the attitude or perception of a particular event or problem. In the paper itself, the author expresses their personal impressions, talks about their own experience, does it emotionally, and gives frank statements. The very definition of a creative essay makes it clear that aphorisms, colloquial speech, and humor, plus colorful expressions are not only allowed, but highly welcome in this type of academic paper.
Tips for writing a creative essay
If your goal is to write an interesting creative essay and get the highest grade on your paper, then consider following these tips and suggestions: 
Decide on a title for your essay – this will help you make a rough sketch of your work, as well as push you to write the first sentence. As often happens with creative writing, coming up with the first sentence is the most difficult part, while an introduction may turn out to be the key building block for the rest of the paper.

Make an outline, or even a rough sketch, where you outline the main points you want to talk about, and stick to them while writing. So your thoughts will be structured.

Think of possible quotations, aphorisms, or classic sayings that are appropriate for your work. This will give the essay "color" and originality.

Choose the easiest point of the plan and start writing work from it. Stick to this principle, and all the rest of the work will not seem exhausting.

If necessary, do not be afraid to change the structure of your creative essay. The process of writing should be full of creativity, in which there are no strict rules or restrictions on writing approach, tactics, and format.

If the essay topic needs to be supported by facts or data, try to find relevant material, but don't overload your creative essay with those elements.

Express your thoughts emotionally, do not be afraid of frankness, as the text should reflect your personality.

To make the paper interesting, use literary means. These can be metaphors, analogies, epithets, allegories, associations, or symbols. Remember that your main assistants in writing a paper like a creative essay are aphorism and figurativeness. Do not write long sentences overloaded with punctuation and unnecessary synonyms.

Do not forget about the dynamics of your essay. Express your thoughts as richly as possible; the creative essay does not tolerate predictability and monotony. The conclusions drawn at the end should be plain and logical, but only for you.

The finished work must be checked for various errors – express your thoughts correctly. Also, don't forget to check the final paper for plagiarism – even the tiniest piece of plagiarism in a paper like a creative essay can kill the whole effort.
How to add originality to your essay
If your goal is to write an interesting, original and catchy creative essay, do not be afraid to add irony or humor (if appropriate) or philosophic thoughts. Do not forget that your work is a direct reflection of personal views, so forget about the option of copying other people's thoughts. Even quotations should be limited to a minimum in a paper like a creative essay. 
Think about what thoughts you are ready to share with readers, what should your paper say? In a creative essay, even the title of the work should be as creative as possible, and if it seems too boring to you (your title or prompt was given to you by the teacher) – do not be afraid to change it. Though, we recommend discussing it with your teacher and getting their feedback.