Toll-Free US & Canada 24/7:
1-770-659-7014
As a precautionary health measure for our support specialists in light of COVID-19, our phone support option will be temporarily unavailable. However, orders are processed online as usual and communication via live chat, messenger, and email is conducted 24/7. There are no delays with processing new and current orders.
Argumentative Essay Template
Argumentative essays assess the student's ability to evaluate a subject matter and take a stance in favor of or against the point of view.
Once you find out the topic of your essay, create an outline to guide you on arranging your work.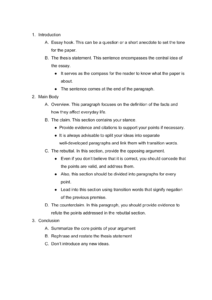 Standard argumentative essay template:
Introduction

Essay hook. This can be a question or a short anecdote to set the tone for the paper.
The thesis statement. This sentence encompasses the central idea of the essay.

It serves as the compass for the reader to know what the paper is about.
The sentence comes at the end of the paragraph.

Main Body

Overview. This paragraph focuses on the definition of the facts and how they affect everyday life.
The claim. This section contains your stance.

Provide evidence and citations to support your points if necessary.
It is always advisable to split your ideas into separate well-developed paragraphs and link them with transition words.

The rebuttal. In this section, provide the opposing argument.

Even if you don't believe that it is correct, you should concede that the points are valid, and address them.
Also, this section should be divided into paragraphs for every point.
Lead into this section using transition words that signify negation of the previous premise.

The counterclaim. In this paragraph, you should provide evidence to refute the points addressed in the rebuttal section.

Conclusion

Summarize the core points of your argument
Rephrase and restate the thesis statement
Don't introduce any new ideas.