Writing tips
How to Hide Plagiarism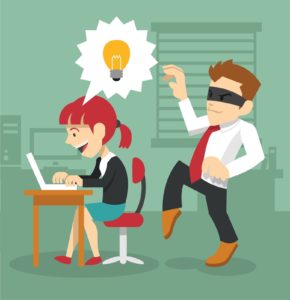 One of the main requirements of every academic paper is the absence of plagiarism. Roughly speaking, plagiarism can be defined as stealing someone else's thoughts and ideas and presenting them as your own without referring to the source. Nowadays with the impetuous development of the IT, professors pay extra attention to the right use of sources and rely on innovative plagiarism detection systems to track and trace plagiarised material. Thus students often scratch their head over writing non-plagiarized college essays.
The ways to avoid plagiarism
But lets face it, its hardly possible to draw a line between influence or inspiration and plagiarism. Most research papers are based on examining a huge amount of academic sources and summarising what already has been done. Therefore its a quite complicated task for a student to write a plagiarism free academic paper. Even the famous English poet John Milton once wrote: "Copy from one, its plagiarism; copy from two, its research".We are sure that you are already familiar with the most common way to avoid plagiarism – paraphrasing original text. By that we mean restating what you have read with your own words, using synonyms, lengthening text with adjectives and proverbs or on the contrary shortening it with simpler expressions, or using a thesaurus in general.
But what do you do when you are short of time and have no access to the big amount of academic sources? We've found a way to fool simple plagiarism detection systems and eagerly want to share it with you.
You will be surprised how easy it can be. So, how to hide plagiarism? You just need to replace English letters with the exact same ones from the Cyrillic alphabet and simple to hide plagiarism detection systems won't find plagiarized material. The trick lies in different encoding, though letters look exactly alike – they are not, and the teacher will never notice something is wrong. Here are the letters you can use (copy the Cyrillic ones from the table below and paste them instead of the English ones):
Lower case letters
| | |
| --- | --- |
| English letters | Cyrillic alphabet |
| c | ? |
| a | ? |
| o | ? |
| i | ? |
| x | ? |
| p | ? |
Capital letters
| | |
| --- | --- |
| English letters | Cyrillic alphabet |
| A | ? |
| B | ? |
| I | ? |
| K | ? |
| M | ? |
| O | ? |
| P | ? |
| T | ? |
| X | ? |