Toll-Free US & Canada 24/7:
1-770-659-7014
As a precautionary health measure for our support specialists in light of COVID-19, our phone support option will be temporarily unavailable. However, orders are processed online as usual and communication via live chat, messenger, and email is conducted 24/7. There are no delays with processing new and current orders.
Writing tips
How to Avoid Plagiarism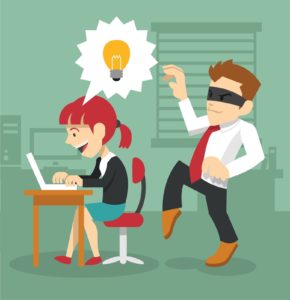 In the digital age, academic plagiarism has become a serious issue and concern for both students and professors. The first ones seek ways to hide plagiarism, while the latter are getting smarter and smarter in detecting it (not that they are getting more intelligent, but they simply use smart IT tools more often).
Knowing how to avoid plagiarism in college is a key skill that helps in every writing task. In this article, we will unveil what plagiarism is and what you can do to avoid it in your writing.
What is Plagiarism and How to Avoid It
In simple terms, plagiarism is stolen intellectual property – someone's thoughts, original ideas, discoveries, or research findings, which can be stolen from an article, a book, a research paper, or an internet source. Since almost all written content in the world is now digitized, it has become more accessible, hence, plagiarizing it is easier and more tempting.
To avoid plagiarism, it is best not to steal someone's ideas, but to compose your own texts instead. And when you need to refer to external sources of information, which is a common thing in academic research, you must reference those sources properly.
However, if you need to write faster or write multiple papers at a time, there are tricks and hacks on how to get rid of and how to mask plagiarism in your text.
How to Avoid Plagiarism in 5 Easy Steps
Run a plagiarism checker on your text using any of the online tools. It's best to scan your text thoroughly using 2 or 3 tools, as this will increase the chances of detecting intentional and unintentional plagiarism, without skipping a thing.

Paraphrasing the sentences that didn't pass the plagiarism detection test. How to paraphrase to avoid plagiarism? It's simple – preserve the meaning, but frame it into different words. You can use a manual method or resort to the help of AI-powered online tools (which may not 'know' how to reword a sentence to avoid plagiarism, so a significant percentage of plagiarized words and phrases will remain).

Aim to cite the necessary quote (or quotes) correctly, using the citation style of your choice. The most popular academic citation styles include MLA, AP, and Chicago (sometimes replaced by Turabian).

Lengthen or shorten the content. Include a couple of new words into a sentence, and in most cases, a plagiarism-detecting app will no longer see it as plagiarized. Alternatively, delete a few words, which you may find redundant, and run the scan again to see if the problem is solved.

If applicable, delete the content that you find hard to paraphrase. Sometimes getting rid of only a few words and phrases will solve the problem, though more frequently, whole sentences and even paragraphs go to the trash.
How to Hide Plagiarism
Here comes the cherry on top of the cake. It turns out, there is a less time-consuming and more simple method to avoid plagiarism – by hiding it.
The point is that some English letters have their 'twins' in the Cyrillic alphabet. For example, in Cyrillic, there are the same letters 'A', 'C', 'O', 'X' and some others as in the English alphabet. They are written exactly the same and sometimes even sound very similar. If you replace an English letter with a similar Cyrillic letter, you will hide it from all plagiarism-detecting apps. They won't see it as being an English one.
For the same token, if you type in a search engine box the phrase 'how to change words to avoid plagiarism' with Cyrillic letters 'a' and 'o' – your search will bring zero results. Unless your PC's keyboard has Cyrillic letters, you may consider using virtual keyboards on your PC or online.
That's it, a very simple but massively effective plagiarism hack, indeed.
Lower case letters
| | |
| --- | --- |
| English letters | Cyrillic alphabet |
| c | ? |
| a | ? |
| o | ? |
| i | ? |
| x | ? |
| p | ? |
Capital letters
| | |
| --- | --- |
| English letters | Cyrillic alphabet |
| A | ? |
| B | ? |
| I | ? |
| K | ? |
| M | ? |
| O | ? |
| P | ? |
| T | ? |
| X | ? |