Toll-Free US & Canada 24/7:
1-770-659-7014
As a precautionary health measure for our support specialists in light of COVID-19, our phone support option will be temporarily unavailable. However, orders are processed online as usual and communication via live chat, messenger, and email is conducted 24/7. There are no delays with processing new and current orders.
Self education
How to Create a Great Study Space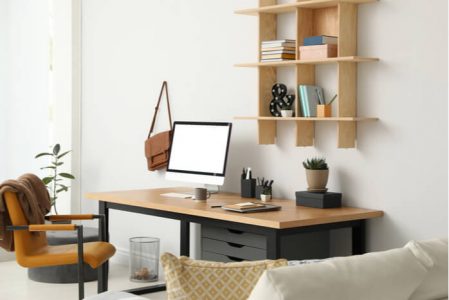 There are different types of studying spaces out there, such as your school's library, special premises on campus (labs, basements), miscellaneous places on campus (cafes, ordinary class-rooms, and even grass lanes), and finally your dorm or your private house. They all have their unique features and differ in terms of access, comfort, noise, lighting, and other things. However, we think that all of them can be organized and adjusted in a way to offer the best studying atmosphere.
Here is what you could do to optimize your study space and boost your productivity:
Remove anything that could distract you from studying. The goal is to increase attention. It is natural to start with cleaning up the mess and then adding the necessary things. So, you should consider removing the following distracters:

Your phone (at least put it on silent mode)
Open tabs on your laptop (or open a new session)
Shut down video games
General mess and other distracting items (such as litter, clothes, food items, etc.)
Ask other people to leave (if possible )

Adjust the lighting, temperature, and noise levels. Adjusting lighting you should know that the so-called cold light (6000k), which is closer to the natural sunlight during a day, will keep your energy levels boosting. At the same time, a warm light (3000k), which corresponds to the dawn lighting, will most likely make you feel calm and relaxed. When it comes to noise and temperature levels – these things are more subject to personal likings, as some people prefer to have quiet ambient music or noises when they work (study), but others find it too distracting.
Surround yourself with essential study space items. Not surprising that the most important item on this list is your chair. It should be ergonomic to allow your back to be in the right position for you to feel comfortable and relaxed. This is especially critical if you sit for several hours (though we do not recommend sitting that long; better if you take short breaks every now and then to walk around the room or even exercise a bit) as your back muscles may get stiff, causing bad blood circulation leading to numbness in your limbs and overall fatigue. Other essential items could be your
computer, a notebook, and a pen, textbooks, etc. Do not forget about a glass or a bottle of still water!

We acknowledge that all people are different and have different preferences. That's why we suggest you take the above list as a menu to pick and implement certain things while dropping the others. The goal is to find the ideal setting to make YOU feel comfortable, even if most people would find it odd.